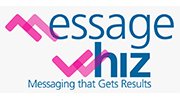 MESSAGEWHIZ - POWERED BY MMDSMART
MessageWhiz from MMDSmart optimizes message delivery, engagement, and conversion rates.
Enterprises from many verticals use our product to drive sales. They are attracted not only by our cutting-edge technology and industry expertise, but also by our innovative approach and business models. We were the first to introduce revenue share, CPA and KPI models in mobile messaging.