It's the fight of the night!
The two most popular marketing channels being used imperatively today are standing at the corners of the ring.
So let's see who is the King of The Ring. Is it SMS or Email?
Let us go deeper into facts and theories about both these marketing channels and in the conclusion we could decide who leaves the ring as the winner.
Any company manufacturing or providing service has a keen interest in marketing as only that decides the ROI of the company. The better the marketing method the maximum will be the ROI.
But with different channels of marketing available, it is quite confusing to choose the right one. Want to know which works better?
In this article, we will discuss pros and cons of SMS and Email marketing so you could choose the right marketing for your business niche.
The Beginning
Through our extensive research on the facts and statistics of SMS and Email marketing, we will help you figure out the benefits of both the marketing.
Instead of us suggesting you the better marketing channel, this article will help you realize which works better for maximum ROI.
Without wasting any more time let us dig deeper into both these marketing Guru's so you could decide for yourself which one works better for you.
How is SMS beneficial for Business?
SMS can really help you maximize your ROI in many occasions like:
Sending deals or coupons for various products/services,
Keeping customers engaged and faithful to your business,
Important updates and notifications,
Direct information easily accessible on the mobile phone without visiting any website or app.
How is Email beneficial for Business?
Just like SMS email also can be used for sending deals & coupons to attract customers,
It offers detailed information which is quite not possible in SMS due to its limitations.
Promotions can be made to look stunning and customize accordingly for recurring customers.
It is possible to take feedbacks or by using call to action buttons request customers to take required action like subscribing for newsletters.
Email increases conversion rate by providing necessary information and powerful features.
Challenges faced by SMS
With the limitation of 160 characters, messages have to be up to the point without further clarification. So you really can't afford to send irrelevant information because every character counts.
Due to character limitations you might not be able to send the complete information and you may run out of characters.
Text limitation can really limit your information but if your message is straight to the point then SMS works wonders.
Due to increasing use of SMS marketing there are high chances of spam messages in future like emails. So there might be few challenges that one has to face in SMS marketing.
Challenges faced by Email
The open rate of email is very low as compared to SMS and most of the times email account is full of spam which looks cluttered and messy.
Sometimes this leads to deleting important messages by mistake while deleting spam messages.
To rectify this, Google with its Gmail and other email marketing service providers are providing a separate tab of important emails. So you can segregate important emails by checking the star and marking it as important.
Most of the times emails get deleted without even opened. And even if the email is opened then it is not read completely due to fluffy information.
SMS on the other hand has a high open rate and because of its reminder alert, user opens it instantly. Even if the user doesn't open the SMS instantly it will again be reminded later.
Even though email has many challenges it still one of the most used marketing channels and will never extinct due to its long lasting features.
DMIEXPO June 2019 - Ryan Deiss - 10x Marketer
Please enter your details below and get Ryan Deiss – 10x Marketer presentation at the DMIEXPO June 2019: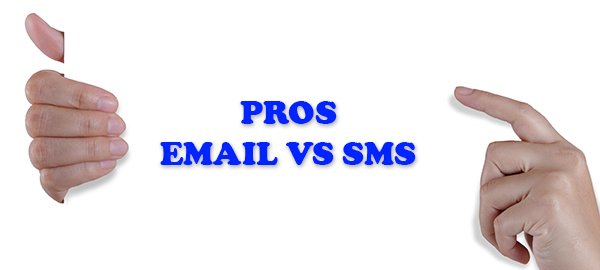 Pros of SMS
Have you heard about a road runner?
SMS is just like that. It is fast and quickest. Customers tend to reply quickest through SMS as it doesn't require any kind of greetings of opening message. Simply a gesture of yes or no works..
With the advancement in technology in future users won't even have to type and everything will be at a click of a button.
If a user thinks that instead of replying on the same message it would be better to call then the user doesn't need to dig in to the call list. With text to voice the call can be connected seamlessly.
The rate of unread messages through SMS is pretty low as compared to email so SMS is quite popular than email for every age group.
SMS comes as an inbuilt functionality in every phone and it doesn't require an internet connection. It means you can always reply even without a Wi-Fi or broadband service. Just have sufficient balance to do that.
Mobile users have increased tremendously and are expected to grow more than desktop users. In this scenario where users are spending more time on mobile phones, SMS is pretty good way for marketing.
Although there is limitation of characters in SMS but that is what makes the message more useful and concise instead of putting all the unnecessary stuffs that is not even required.
Its fun when texting through SMS that gives you a friendly feeling. You have lesser options but you know that only what matters has to be communicated.
Texting is more of a short form message communication service that is used for urgent messages and when you are familiar with the recipient.
Pros of Email
Avoiding email marketing can be a blunder for your business as it is more professional and customers expect a formal email rather than SMS.
If SMS is a short message service then Email is considered as a long form messaging service. You can write as many lines you want with detailed description and right way to convey your message clearly to the users.
What if you want to attach a file which could be an invoice?
Well that's where Email plays a significant role. It allows you to attach pdf, images in specified formats. So if Email is just an opening message then everything else can be specified in the file attached along with the email.
What if you want the user to surf to your website?
This can be done with a call to action button in the email. If the user finds it interesting then just by clicking on the button the user can be redirected to your website.
This way you can make the user perform any action. You can also ask the user to subscribe to your email list so as to receive newsletter and updates regularly.
Want to offer something special to your customer and convert them as recurring one?
Simply by attaching high quality images of products/services with special coupons and deals will make your customer's day blissful.
When we talk about mass marketing, nothing better works than Email. You can send as many emails to as many people you want with no restrictions whereas SMS has a daily limit.
Conclusion: Some Statistics to Wrap It up
Statistics prove that SMS open rates are higher than email open rates as most of the times emails are sent to spam.
Replying to SMS is quite easy and fast as compared to email and is therefore gaining more popularity.
SMS may be gaining popularity but that doesn't mean email is dying. Instead Email is becoming more powerful marketing channel and evolving itself over the time.
Now that we have given you all the reasons to decide which one is better, you can surely decide for yourself as to whom the crown should be rewarded.
Choose both the services wisely and consider them to be the two wheels of the same bicycle needed for proper balance.